DogWatch of Southeastern Ontario
It's all about your dog!
Dogwatch of Southeastern Ontario has proudly served Southeastern Ontario since 1996. We ( Keith and Trixie Bailey) became the new owners in 2014, taking over the reigns from Brad and Vicki Wolfe who have built this business over the last 20 years.

We have been involved with Dogwatch for the past 18 years on a part time basis, and finally after serving 25 years in the Canadian Armed Forces as a meteorological technician,and moving around the country, My wife Trixie and I decided to set down roots and become involved with Dogwatch on a full time basis.

With our two son's Ben and Kyle, along with our sales person/installer Doug in the Peterborough area we will continue to build on what is already a well established business. The knowledge, expertise and customer service are something we strive for with a company we can trust. We have been Dogwatch customers for 18 years.

We currently have three pups (Spike, Joey and Carmen ) on the Dogwatch System. And they are a testament to how well the system works.

Dogwatch Hidden Fence is the Premium Hidden Fence system on the market today. We offer a lifetime warranty on our T-1200 and Performance series transmitters and receivers...even against water damage and dog chews...We offer a two year battery life on our R9 Receivers as well. We also offer a variety of Indoor Pet Containment solutions as well as Training products. We understand that each pet containment situation is unique and we will find a solution that works for you and your pet. We also offer unbeatable customer service....

We are pet people, being able to provide a service that keeps your pet safe and happy while providing owners piece of mind is what makes what we do worthwhile....Please feel free to contact us via phone, email or Facebook page for a free quote. Or to arrange a free in-yard estimate.

Also check out our Facebook page: Dogwatch of Southeastern Ontario

" IT'S ALL ABOUT YOUR DOG.....AND CATS TOO "


Service Area
We provide services to customers in the Southeastern Ontario area, including the towns and cities of Prescott, Brockville, West of the 416, Oxford Mills, Merickville, Perth, Smiths Falls, Carleton Place, Bancroft, Kingston, Belleville, Quinte West, Prince Edward County, Port Hope, Oshawa, Peterborough, Port Perry, Kawartha lakes, Fenelon Falls and all points in between.
Get a Free In-Yard Estimate!
Our representatives will meet you at your home for a free in-yard estimate. We will help assess your needs and customize a solution that suits both you and your pet. Call today or schedule an appointment to get things started!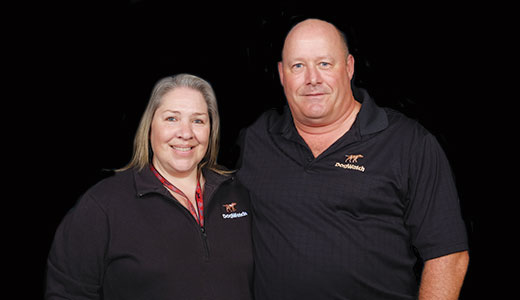 Why Choose DogWatch of Southeastern Ontario?
1. Our number one concern is the safety and well-being of your pet. We provide the support you need to ensure successful training and happy containment.
2. We provide a proven PetFriendly™ training program. We train your dog (or cat) to recognize the boundary flags and the audible warning signal (or vibration) before introducing the correction.
3. We are experienced professionals committed to providing excellent customer service and support. We strive to service every customer promptly and courteously.
We want to hear about your experience! Write us a review on Google+
Simply the best. No getting around it.™
Another reason to choose DogWatch of Southeastern Ontario is that we are an authorized DogWatch dealership. The DogWatch Hidden Fence is the most technologically advanced and the easiest to use, and it is backed up by a no-hassle Lifetime Warranty from a company with more than 25 years of keeping pets happy and safe.

What makes us Simply The Best?
---
Customer Testimonial
The results have been phenomenal with our three labs. They have learned the boundaries and they do not cross them. The peace of mind and the reduction of stress - on both humans and dogs - has made all the difference in the world.
John N.